An "always-on" wearable implies that the wearer is always-on. We can easily imagine how vital this capability will become. The surgeon wearing smart glasses to aid during surgery or the architect shuffling through the floor plan and then calling the electrician – all done solely with automatic speech recognition improved by Alango's Speech Recognition Enhancement technologies. What seems like a novelty nowadays will be mission critical in the future. At Alango we continue to advance our Voice Enhancement Package (VEP) because the day is coming when speech recognition will handle tasks much more critical than mere weather updates.
Alango's customized Voice Enhancement Package employs n-Mic beamforming implementations to optimize voice pickup specifically in accordance with the device design and use case scenarios.
| | |
| --- | --- |
| N-Mic Beamformer | A custom microphone array utilizing beamforming preserves the speech from ambient noise and detects the direction of the voice commands. Implementations are custom prescribed depending on the industrial design and use cases. |
| Acoustic Echo Canceller (AEC) | Eliminates acoustic echo with multi-band residual echo suppressor ensuring full-duplex communication on each "beam" direction. Mono or stereo echo canceller allow the system to respond to the user's voice during music playback. |
| Noise Suppressor (NS) | Detects and attenuates stationary and transient noises. |
Flexible implementation of optimal voice pick up and transmission to the ASR according to the environment and number of microphones.
Low power implementations for preserving wearable/hearable power consumption.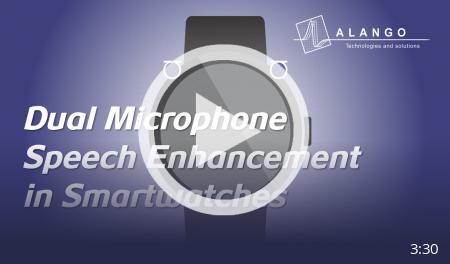 Watch this video on Alango Youtube Channel