NEWSLETTERS
READ ALL
May.16, 2023
Issue #21
TEAMS Certified, Bang & Olufsen Approved
Read the full newsletter >>
---
PRESS RELEASES
READ ALL
Apr.25, 2023
Alango's VoiceDefender™ passes TEAMS on the new Bang & Olufsen Beocom Portal Headphones
Tirat Carmel, April 25, 2023 - Alango Technologies, a leading voice enhancement technology provider, announces that its VoiceDefender™ has passed the TEAMS certification on the all-new Bang & Olufsen Beocom Portal headphones...
Read the full release >>
---
COMPANY NEWS
READ ALL
Apr.30, 2023
TEAMS Certified, Bang & Olufsen Approved
Alango's VoiceDefender™ provides pristine call quality even in noisy environments on the new, TEAMS certified, Beocom Portal for whenever & wherever you work; from your desk, home or traveling...
Read the full article >>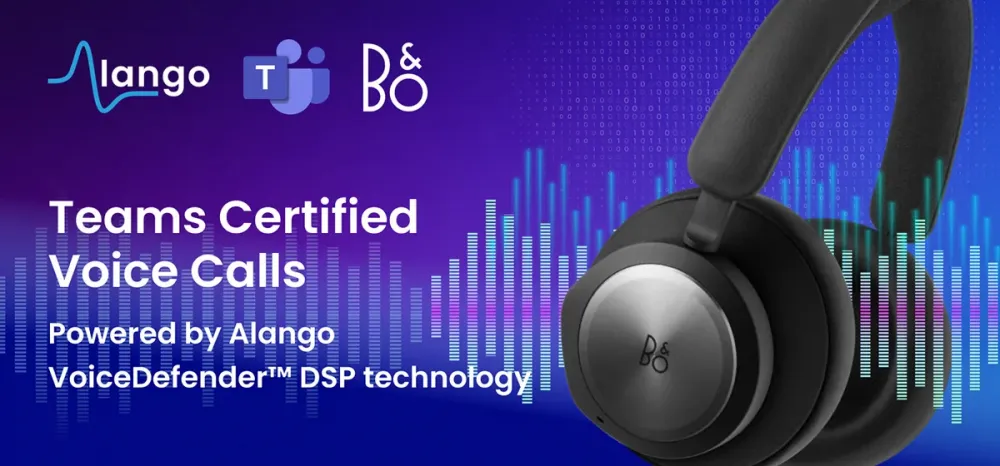 ---
EVENTS CALENDAR
SEE ALL
March 14-16, 2023
Place: Nuremberg, Germany
Meet us at Embedded World 2023!
For those of you attending Embedded World 2023 please reach out to schedule and appointment. Technical staff will be on hand to answer questions and perform demonstrations of the following technologies:
Boosting conversation (hearing enhancement)
Enhancing voice preprocessing for TWS and on/over ear headphones
Ambient sound awareness Slowing down speech in real time
Improving intelligibility of streamed content
Alango will demonstrate these technologies running on the Tensilica HiFi core at partner Cadence Design Systems (Hall 4 Booth 4-122).
We look forward to seeing you there!





Book a meeting

Download invitation
---