May.4, 2021
Alango OnlyVoice™ Technology Ported onto Qualcomm® QCC5141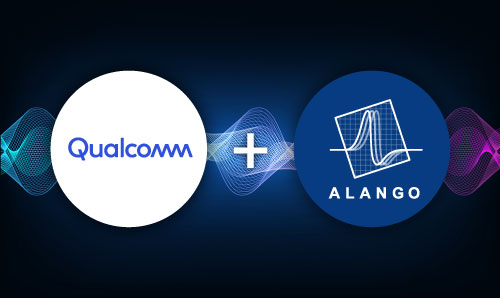 Designers of Bluetooth earbuds and hearables who are using the Qualcomm QCC5141—a premium low-power voice-enabled audio chip—can now offer end-customers improved voice clarity in noisy or windy environments by way of Alango's OnlyVoice: an advanced voice acquisition technology relying on sensor fusion technology for devices incorporating acoustic microphones and a vibration sensor.
Bluetooth headphones are appraised for many features, including transmission call quality. After all, words matter. And those words should be intelligibly delivered to the person (or machine) on the other end of the call even when speaking from a noisy environment such as a windy park, cafeteria, and even the office—at work, home, or wherever. The immense popularity of True Wireless Stereo "TWS" headphones create an opportunity for the product designer to ensure that the end-customer's voice is heard in small form-factor earbuds. The solution is OnlyVoice.
OnlyVoice improves communication intelligibility in noisy environments by employing an in-ear signal source, which due to its positioning is isolated from ambient noise. The user's speech is acquired with either an in-ear microphone via the eustachian tube or an in-ear accelerometer via bone conduction. The in-ear signal is combined with the external microphone's beamforming signal and intelligently mixed, since the frequency limit of internal voice pickup is effectively 1.5kHz. The combination of the in-ear sensor and external beamforming array captures clear, full-spectrum speech surpassing the performance limitations of modern-day headphones. OnlyVoice also includes Voice Activity Detection (VAD) functionality allowing low-power, always-listening operation of voice-activated devices.
"Alango has been a long-time member of the Qualcomm® Extension Program, successfully serving customers by providing Alango DSP algorithms running on Qualcomm Technologies' Bluetooth feature rich SoCs that have broad industry adoption," said Dr. Alexander Goldin, CEO of Alango Technologies. "OnlyVoice is our latest addition to the set of technologies available on the latest generation of Bluetooth solutions from Qualcomm Technologies."
Qualcomm is a trademark or registered trademark of Qualcomm Incorporated.
Qualcomm Extension Program is a program of Qualcomm Technologies, Inc. and/or its subsidiaries.
Qualcomm QCC5141 is a product of Qualcomm Technologies, Inc. and/or its subsidiaries.
Related Links:
Technologies > Voice Enhancement > OnlyVoice™ with In-Ear Accelerometer
Technologies > Voice Enhancement > OnlyVoice™ with In-Ear Microphone
---