NEWSLETTERS
READ ALL
Aug.23, 2018
Issue #2
Voice Activity Detector Demo, IFA Berlin 2018 and much more...
Read the full newsletter >>
---
PRESS RELEASES
READ ALL
Jun.3, 2018
April 2018: Alango and Banma Network Technology Co., Ltd. have announced Alango VCP8 (Voice Communication Package) implementation in the new SAIC ROEWE flagship Rx8 model
Alango's Voice Communication Package (VCP) is used in over 20 million vehicles on the road. VCP ensures that the vehicle occupants are heard clearly via the automotive hands-free system by mitigating against echo and noise as well as adjusting gains and frequency equalization...
Read the full release >>
---
COMPANY NEWS
READ ALL
Jun.23, 2019
Alango's Technologies are now available on STMicroelectronics STM32 MCU
Alango now offers many of its technologies on the STM32F7 Arm Cortex-M7 microcontroller, including...
Read the full article >>
---
---
EVENTS CALENDAR
SEE ALL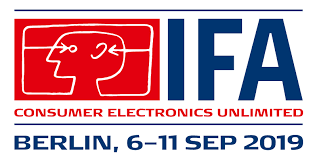 September 6-11, 2019
Place: Berlin, Germany
Meet us at IFA Berlin 2019
IFA Berlin is the leading showcase for the global technology industry. The latest products and innovations will be presented here, in the heart of Europe's most important regional market. Alango is proud to participate and will exhibit the
Wear & Hear line of assistive hearing products
for key retailers, buyers, media, and industry experts from over 100 countries worldwide.
Hall 1.2, Stand #204.
Interested in meeting us at IFA?
Reserve a convenient meeting time here.
---